Today from New York, a girl who has many faces and styles, but with very clear ideas. She answered the questions I sent to her and I think her words are really inspiring. Here it's what Xenia said:
Hoy desde Nueva York, Xenia, una chica con muchas caras y muchos estilos, pero con las ideas muy claras. Ha contestado estas preguntas que le envié y que creo que sus palabras son muy inspiradoras. Aquí las respuestas de Xenia  (hay traducción en español mas abajo):
Why did you start blogging?
I've been blogging since 2003 – originally on LiveJournal – as a way to keep up with my friends. It was just a fad, like Friendster and MySpace, and everybody was using their blog as a personal diary, which was somehow public at the same time.
The concept of blogging changed over time, and so did my blog. I moved on to my own platform and started writing entries aimed to entertain and inspire readers. Currently, I do makeup tutorials, fashion tips and product reviews (I love shoes!). But there is still a healthy dose of personal stuff in there as well. I guess you could say Doe Deere Blogazine is a combination of fashion, beauty and personal blog.
Blogging on my own website felt much more liberating but at the same time, the pressure to come up with quality content was suddenly higher than ever – there is literally nothing holding people there, and the only reason they read my blog is because they like it. But I think it's a fair trade off, as it made me become a better blogger, better writer… a better person, even!
How did it change your way of dressing?
I like to think my way of dressing changed the blogosphere, not the other way around. ;) In all seriousness though, I have always been a fashionista to the extreme, and running a blog only intensified and expanded my fashion interests. I constantly refer to other bloggers for inspiration – these days, you don't even need any magazines if you are looking at the right blogs! :)
My personal style evolves constantly, regardless of whether I document it or not. But what blogging did is make me more aware of my own evolution. Sometimes I look at what I wore a year ago and see what a long way I've come style-wise. It's also a reminder of how inner changes influence and reflect upon our clothing choices.
I see you are a very multifaceted character. Do you have any tips to be focused to do everything you do?
I only do things I'm super-passionate about – which is fashion and aesthetics – and that's how I stay focused. I followed my heart, and that's how I ended up being a model, stylist and a makeup artist. In addition, I am now a proud owner of my very own makeup line! It's called Lime Crime Makeup  and our slogan is "so bright, it's illegal!". :)
I aim to be the best at everything I do. My goal is to inspire others with my journey of self-discovery, to encourage people to do what they love and be who they are!
Porqué empezaste a bloguear?
Desde 2003 que blogueo (originalmente con Live Journal) como una forma de mantenerme en contacto con mis amigos. Era sólo una moda, como puede ser Friendster o MySpace, y todo el mundo usaba el blog como un diario personal, que al mismo tiempo era algo público.
El concepto de bloguear ha cambiado a lo largo del tiempo, y así fué con mi blog. Me mudé a mi propia plataforma y comencé a escribir entradas para inspirar y entretener a mis lectores. Actualmente hago tutoriales de maquillaje, doy tips de moda y hago reseñas de productos (me encantan los zapatos!) Pero sigue existiendo cierta dosis personal necesaria. Creo que se podría decir que Doe Deere Blogazine es una combinación de moda, belleza y de blog personal.
Bloguear en mi propio blog en mi propio site me hacía sentir mas libereada, pero al mismo tiempo, la presión de tener contenido de calidad de repente era mas alta que nunca (literalmente no hay nada que los ate a los lectores , y la única razón por la que leen mi blog es porque les gusta), pero creo que es una buena compensación, ya que me obliga a ser mejor blogger, mejor escritora y hasta mejor persona!
Cómo cambió el blog tu forma de vestir?
Me gustaría pensar que mi forma de vestir cambió la blogosfera, y no al revés :-). Ahora en serio, siempre he sido una fashionista al extremo, y tener el blog sólo intensificó y expandió mis intereses en la moda. Constantemente refiero a otros bloggers como inspiración (actualmente no necesitas incluso leer revistas si miras los blogs correctos!):-)
Mi estilo personal evoluciona constantemente, mas allá que lo documente o no. Pero lo que si hizo bloguear es hacerme mas conciente de mi propia evolución. A veces miro lo que me puse el año pasado y el camino hacia una conciencia de estilo. Es también un recuerdo de cómo los cambios interiores influencian y reflectan sobre nuestras elecciones de ropa.
Veo que eres una persona multifacética. Cómo te las arreglas para mantenerte enfocada?
Sólo hago cosas por las que soy super apasionada (que es la moda y la estética) y esa es la forma de mantenerme enfocada. Sigo mi corazón y así es como he terminado siendo modelo, estilista y maquilladora. Además, ahora soy la orgullosa dueña de una marca de maquillaje que se llama Lime Crime Makeup, y nuestro eslogan es "tan brillante que es ilegal" :-)
Yo apunto a ser la mejor en todo lo que hago. Mi objetivo es inspirar a otros con mi camino de descubrimiento personal, para animar a los demás a que haga lo que aman y que sean quiénes quieran ser!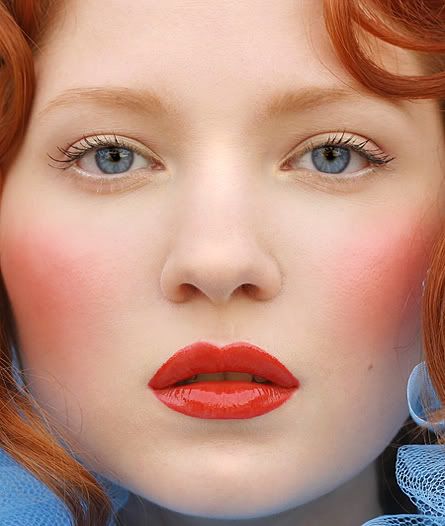 No perderse los tutoriales de maquillaje! Her make up tutorials are great!
Thank you so much Xenia! Muchas gracias Xenia!